The objective of the project has been the design and development of a platform for the monitoring and control of personnel who are carrying out construction or maintenance works on the track, based on radio frequency that allows reducing occupational accidents in railway construction, maintenance and conservation works.
One of the main risks during the execution of construction and maintenance tasks of any type of work with heavy machinery is the risk of personnel winding up, who during the execution of their work or due to accidental causes come dangerously close to the machines. Generally, during the execution of construction, maintenance and conservation work, it is necessary for some of the operators to stand near the machines and check that the different parts of them to perform their functions correctly and that the work progress properly. The movement of these parts of the machines, together with the forward movement itself during the execution of the works, presents a significant risk for those workers. And specially taking into account that, on many occasions, machine operators do not have enough visibility to carry out work in complete safety.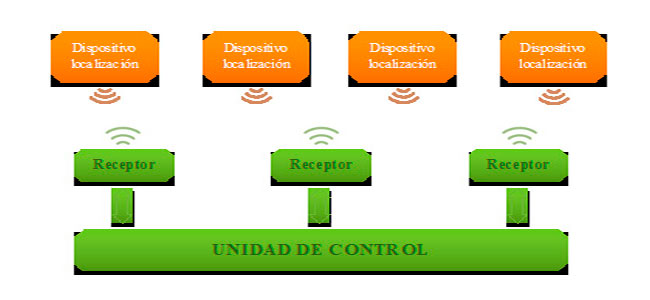 Functioning diagram of the platform.
The design of the platform allows the real-time location of the operators who carry out the work around the railway machinery, manages the danger zones and sends out the appropriate alarms to prevent and avoid possible accidents. For this, a local location system is available based on a low-cost wireless communication device, which is operational in any work environment, including tunnels and trenches.
To calculate the position, several receivers have been used and trilateration techniques have been used, in which the position of the emitter is calculated from the distance of this respect to each of the receivers. The location of the receivers on the railway machine is similar to that shown in the figure, that is, alternating from one side of the machine from the beginning to the end, avoiding that they are on the same line.
Graphic presentation of the applied location techniques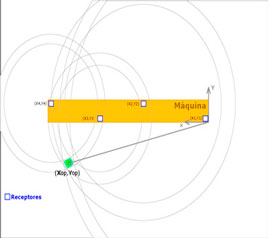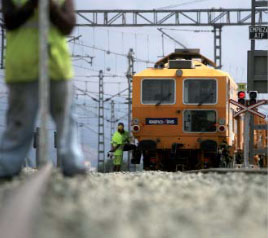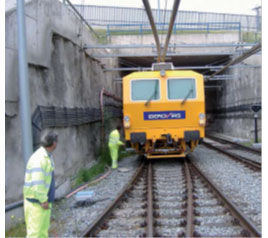 Example of works in railway construction and maintenance works