Rover Group completes the construction of the new breakwaters of the emblematic Port of Gdansk
The project has involved an investment of over 114 million euros.
Rover Maritime, Rover Group's maritime infrastructure division, has successfully completed the construction of the new breakwaters with a total length of 1,700 metres in the emblematic Port of Gdansk (Poland), third port for cargo movement in the Baltic Sea.
It is a project commissioned by the Port Authority of Gdansk that was carried out with an investment of more than 114 million euros (114,846,273 €). Rover Group has employed more than 300 people during its execution -directly and indirectly-, adding up to a total of one and a half million hours of work.
The design of the docks was based on previous experience in the development of Rover Maritime's patented "No Waves" anti-reflective caissons. This type of anti-reflective floating caissons of reinforced concrete reduces the reflection of incident waves in the interior of the dock. The construction of the docks composed the construction of 38 caissons for which Rover Maritime mobilised its Floating Dock to Poland, contributing to the local port system a new technology unknown until then in the country.
By means of the Floating Dock, the metallic formwork slid a stifling sum of 486 linear metres in height, equivalent to a 162-storey building, thus forming the 38 floating caissons of reinforced concrete mentioned above, each of 48 metres long, 10 metres wide and 13.4 metres in depth.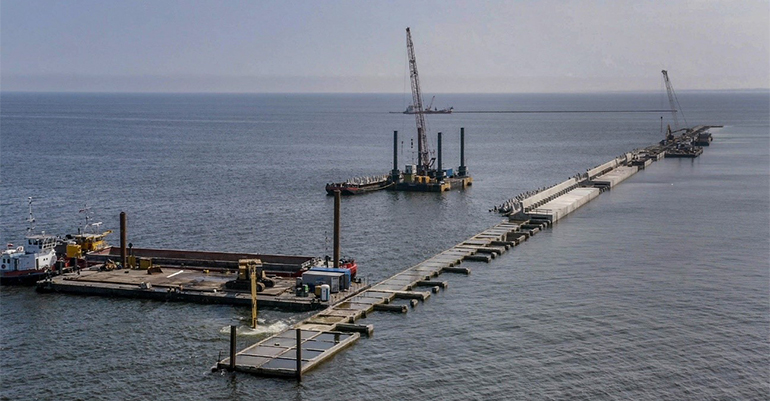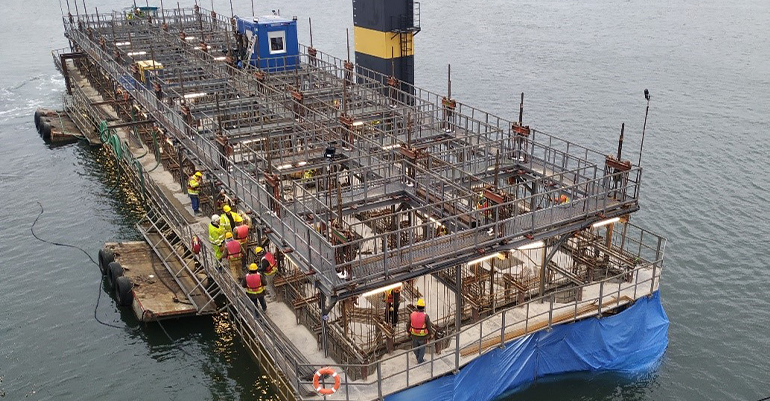 The new breakwaters, in turn, are made up of a layer of breakwater protection filters and a main protection layer of concrete tetrapods. The superstructure is made up of prefabricated reinforced concrete elements both for the external protection walls and for the cantilever beams where the bollards and fenders necessary for the berthing of the ships are installed.
The mega-project executed by Rover Group, has required the dredging of 421,000 m3 of sand, the use of more than 80,000 m3 of reinforced concrete, 690,000 tonnes of breakwater mantles, 17,700 tetrapods weighing between 5 and 8 tonnes and more than 1,100 prefabricated pieces of reinforced concrete to make up the entire project.
Rover Group, with its subsidiary RoverPol, is currently executing 10 projects in Poland, mainly in Gdansk, Szczecin and Lublin. Since Roverpol settled down in the country in 2014, it has been growing and placing itself as an established company in the country, thanks to its railway and maritime specialities. New projects are currently being tendered with expectations of a long future in Poland.